22 Aug
Street outfits Sorting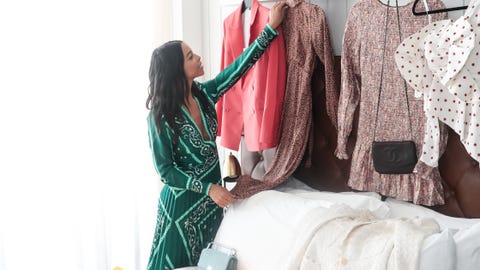 JANELLE LLOYD
For the circus that is fashion week, what you wear is often just as important as what you end up doing. Beyond getting snapped by street style photographers outside shows and presentations, bloggers have to consider capturing their own content. The cycle of posting rests for no man.
We asked Janelle Lloyd of @waityouneedthis to share her thought process behind outfit prepping and styling during NYFW. "It's an amazing week, but it's also work," she told us over a glass of Chloe Wine at ELLE.com's annual fashion week lounge. "It's important to not get carried away and dress for real life, even during fashion week."
FIRST, YOU GET ORGANIZED.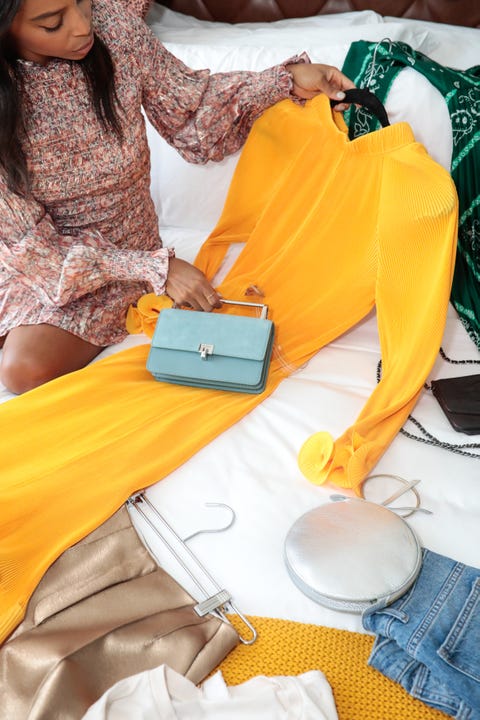 JANELLE LLOYD

"I start with the brands that I have a relationship with; those are the looks I [decide on] first. Then I'll see where there are trend holes that I can fill by borrowing pieces from showrooms—and I still buy stuff for fashion week!" Not everything she wears during fashion week is new either: she'll pull in vintage pieces, basics, or special items she bought earlier and has been waiting to wear.
When prepping outfits for this season, color played an important role. "It was because of one dress and the outfit I'm wearing today," she said, referencing the poppy pink suit pictured below. "Then, I wanted accessories that were equally as fun, so I looked for complimentary colored accessories." In turn, she fell for a bright bag, which then led her to put together more outfits she could carry it with.
THEN, THINK ABOUT WHAT MAKES A GOOD PHOTO.
There's no denying that capturing a street style photographer's attention is important, but it's not everything.
"I think about things being a little more eye-catching than normal, in terms of color, silhouette, and print," she admitted. "I do think fashion week is becoming a lot more casual than it's been in previous years. People are wearing clothes that they'd actually wear to the office. You're not seeing flamboyant things."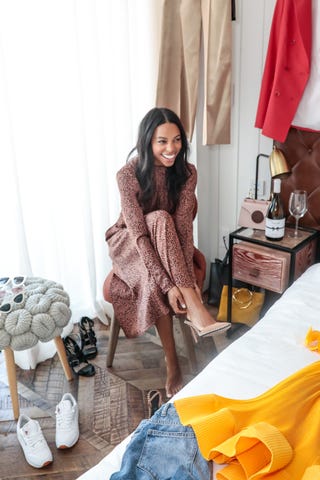 JANELLE LLOYD
With followers who love liking her images because of her signature vibe (feminine and classic, but quirky), she doesn't stray too far from the norm during fashion week.
"I don't think my readers are surprised by the things I wear—it's just turning up the volume a little bit. I stay true to the silhouettes I love and have in my closet."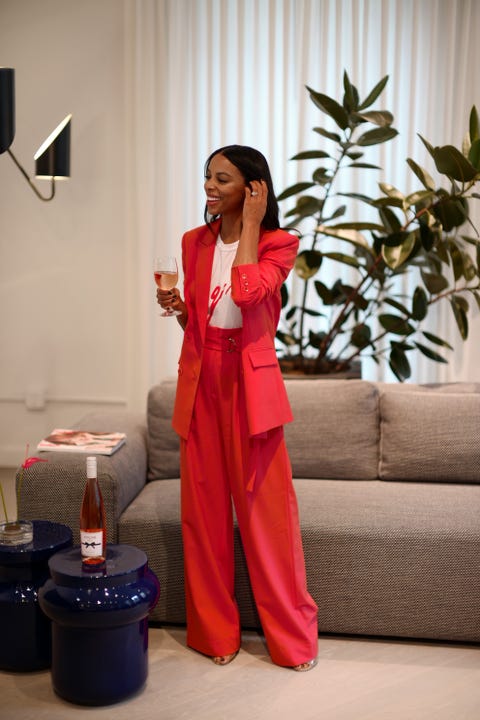 Lloyd at the ELLE.com fashion week lounge
ROMAN YEE
BUT DON'T GET TOO ATTACHED TO ANYTHING.
Getting to borrow designer pieces is nice, for sure, but does she ever feel bummed when she has to send them back?
"I fall in love with clothes every day so I try to tell myself there will be another dress, there will be another great piece," she laughed. Trendy pieces are the ultimate items to borrow for a spell. "When you love it now, but might not in a year or so, it's nice to have the option to loan. I try to look for trendier pieces I know I'd never buy myself."
The poppy pink suit she wore to the ELLE.com lounge was a loaner (though she did sound sad about needing to give it back). "This was something I thought would be eye-catching and that I wouldn't have the opportunity to wear in my every-day. But, the silhouette is inherently me and still practical."
AND FINALLY, YOU STAY TRUE TO YOUR OWN STYLE.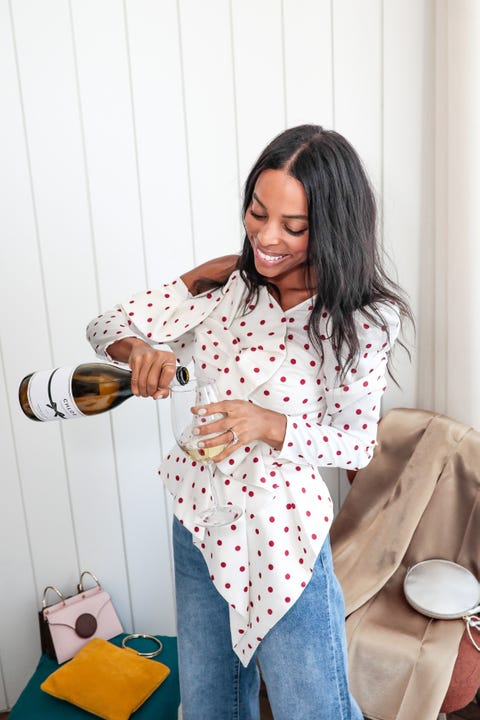 JANELLE LLOYD
When dressing for fashion week, it's less about fashion weekand more about remaining accessible to followers who are there year-round.
"As an influencer, it's less about the street style snap and getting coverage and more about my reader being able to see themselves in the pieces I'm wearing," she said. And while NYFW dressing (and borrowing clothes for it) can mean the price points of items she wears are higher than normal, her followers don't get mad. "They're excited to see you push the envelope a little bit."
"I'm not wearing a stiletto around New York City every day, so I'm not during fashion week either. When I was looking for bags to carry this week, if it was for a daytime outfit I looked for something larger—you want your outfit to look believable and real."
Her commitment to authentic dressing means she'll also re-wear stuff (too bad if you've seen it on the 'gram before). "People look to us to be aspirational, but accessible too."
LEAH MELBY CLINTONLeah Melby Clinton is the Director of Branded Editorial Strategy at ELLE.com and MarieClaire.com, where she oversees the creation of co-branded stories covering fashion, beauty, and beyond.